So last night I went to see Reel Big Fish for the second time, EVAR.
Me and my brother kind of purchased the tickets on impulse as soon as they were released a few months back, complications came up, my brother couldn't go because he had work, and then later on Rayner wasn't allowed to go. So I was left with 2 spare tickets.
I sold 1 to Mel and her sister purchased 2 tickets from eBay (£43 each!! sheesh! i only paid £15!!), and then after a shaky period, I finally got rid of the last ticket to Stephen Cartwright, who actually hadn't heard any of their songs before... But a sale's a sale.
Mel's sister drove us their and back, which was totally awesome of her, I was worrying about travel because the last train that left back to Chester from Manchester yesterday was 9:30, and RBF weren't even on stage by then!!!
Support bands played, nothing really worth mentioning here about them, Beat Union (or if you're frisky, you can call them Bean Onion), and Army of Freshmen. The keyboard/synth guy from AOF was wearing an Aquabats shirt. I like him.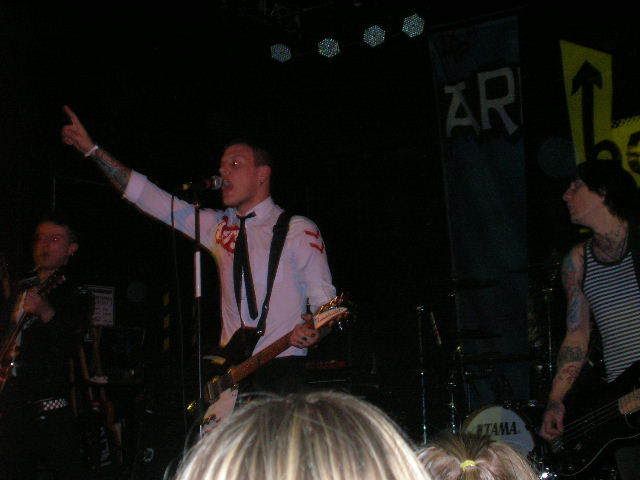 (That's the very intimidating frontman of Bean Onion)
I made a special effort to talk to him after the show, as documented here: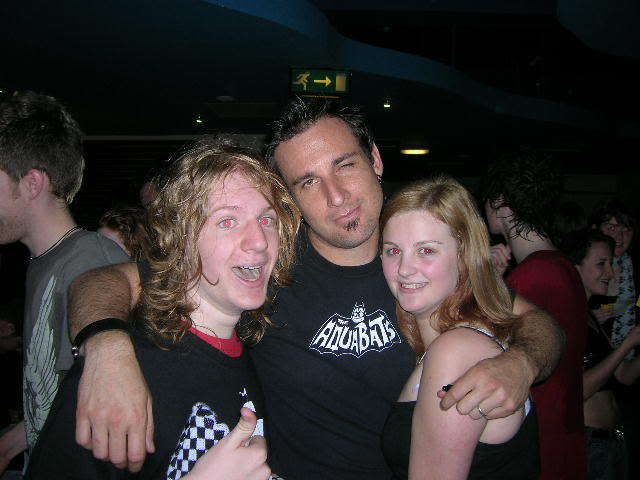 What a stud!
That's Rachel, in the picture. RUINING IT.
So RBF eventually came on stage, so the sound of the Superman theme song...
They played Trendy first, and it was very good... Scott looked very handsome with his beard. Scott is awesome... But wait... What's this? NO MATT WONG?!?! WHAT?!? That was probably the worst thing about the night, really. Apart from some rude bloke with a mohawk started to be an absolute jerk, but that lasted about a minute, then the fun returned!! They played a bunch of songs (OBVIOUSLY, DURRRRRRRRRR) including an "Enter Sandman" cover, that song thats like "Olé, olé, olé, olé..." etc., "Kiss Me Deadly", "Boss DJ", "Boys Don't Cry", "Take on Me" and even the many versions of "S.R."!!! which I was super pleased about because they didn't play it last time I saw them. They even played a brand new song (not to be confused with "Brand New Song")!!!!! The only thing was the song was almost exactly the same as "Angry Anthem" by the Forces of Evil... Hmm... They played a
pretty
good set, but the lack of "A Little Doubt Goes a Long Way" was pretty lame. The set was not as good as the last time I saw them, but they performed a hell of alot better, and they were hilarious, as always.
I think the only let down of the night (aside from it being Matt Wong-less) was how much my camera sucks... If it was any other camera, the following picture would be immensely incredible, but alas, my camera managed to meff it up. It's still not
THAT
bad... It's Scott!!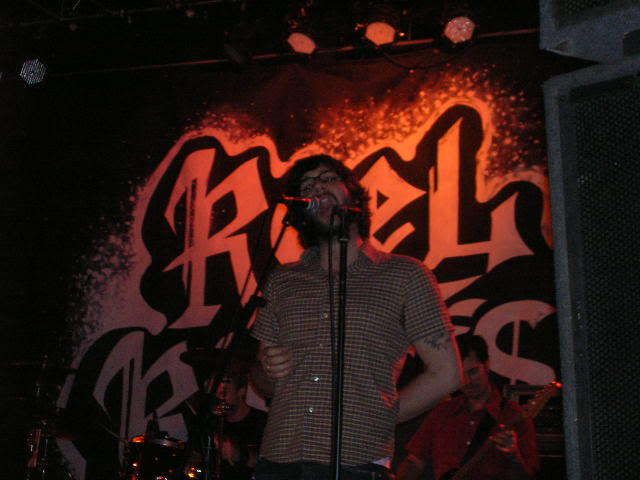 I enjoyed it, as did everyone else.
A GOOD NIGHT!